Welcome to the Philip Avonds Scale Jets website! You will find detailed information on our line of products (jet kits, landing gear and scale accessories) and a lot of other information (competitions, nostalgia etc.). Have fun!
Sadly, after 34 years of business, I have taken the decision to end production of my line of kits. This is due to all sorts of reasons, the most important one being health issues (don't worry, not life threatening). Production has stopped completely on all kits as from May 2020.
We are negotiating with persons interested in taking over the production of some of our designs. Please do contact us if you're also interested in continuing the production of one or more of our models.
Please also contact us if you want to buy a kit (or anything else) in the near or the far future, so we can pass it on to those persons. That will help them in setting up the production in the most efficient way to cater for the demand.
Last Fouga kit for sale
We have just one more kit of the Fouga Magister in stock. It is a full option kit and ready to be shipped. Hurry if you want to own the very last Fouga kit manufactured by Philip Avonds!Please be advised that it is a full option kit and that's how I'd like to sell it. It includes the following options:
PA604, PA605, PA606, PA608A, PA609, PA614, PA620 and PA615
Combo price is 6500,- euro (normal price 6645,- euro) This price includes 21% VAT for EU sales, export price is 5371,90 euro
More info on the Fouga kit, landing gear and scale options pages. Please contact me on info@avonds.com for more details.
End of business sale
We have dedicated this webpage to our end of business sale. You will find a lot of items, not all specifically jet oriented but simple off the shelf hardware items which can be used for all kind of models.
You can benefit from discounts of up to 90%. Stock up at these super sale prices while you still can!
RCJI Magazine
We still have a large stock of Radio Control Jet International back issues. If you're looking for a particular back issue, please contact me on info@avonds.com. They sell for as low as 1 euro each (+ shipping costs, read here).
Yes, our business also has to comply to the General Data Protection Regulation (GPDR), so here is our Privacy Statement.
The Interceptor is a project on hold. Following the decision to stop production, development of this kit was stopped although it may be pursued in the future.
The Interceptor is a purpose designed jet trainer for the 90mm diameter class of turbines with thrust ranging from 60N to 100N. It will probably be the best jet trainer ever. Whether the kit will enter production is not certain, see above. Read more...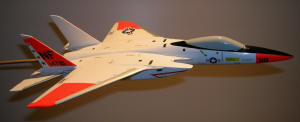 Interceptor concept model in US NAVY livery