Rafale A for Turbine
No longer available, this page for information only
Read about renewed availability here
(Ducted Fan version also available)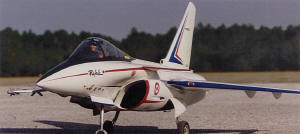 Only one example of the full size Rafale A was built as a technology demonstrator. The later "B", "C" and "N" versions are quite different. By the way, "rafale" is French for "wind gust". It is pronounced "rah-fahl".
The Rafale A model is an extremely versatile jet capable of even 3D style aerobatics. The delta planform and the moveable canards make it a very stable, yet fully aerobatic jet which will perform some exotic maneuvers like tailslides, flat spins and cobras. Simple construction and proven performance make this model a fine choice: all in all a model that will give countless hours of flying fun.
Slow flight characteristics are excellent and the model can easily be flown from short grass fields. This model is rather small and therefore, we recommend the 50 N (12 lbs) to 80N (17 lbs) thrust class Turbines for the highest fun level. Anything bigger will only increase the required fuel load and consequently the total weight. This jet does not use a bypass system for simplicity and weight reasons.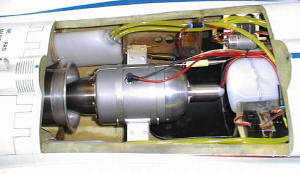 Simple Turbine installation without bypass
The bearing tubes for the canards are already installed in the fuselage. The canards are ready made epoxy glass components with the pivot axles already installed.
Rafale price list
---