We have decided to design a new turbine jet trainer to fill a gap in the market. Well, not only for that reason but also for the fun of designing something entirely different after the huge Fouga Magister precision scale project ;-)
Most of the present sport jet designs are optimised for aerobatic performance. The only available jet trainers intended for beginners simply lack good looks. We have combined graceful lines with superior flight characteristics in a stunning military fighter style design, hence the name: Interceptor. The Interceptor will be available as a traditional kit: fibreglass fuselage with balsa sheeted foam wings, pretty much in the style of our proven Rafale, F-104G, F-16 and F-15 (old version) kits.
What's the status of the project? Initial design has been done. A small scale model has been made to visualize the design. Design drawings are mostly made. The wings, stabs and fin design is finalised and prototype parts are built. We are now working on the plugs for the epoxy/glass components (fuselage, hatch, intake liners etc.). More details to follow in the next weeks as we make progress.
Anyway, below are some sneak previews of the concept model to wet your appetite. The concept model was painted overall white initially and has now received a US NAVY style livery (comments are always welcome).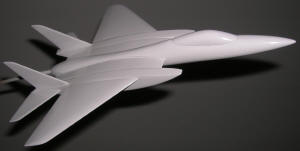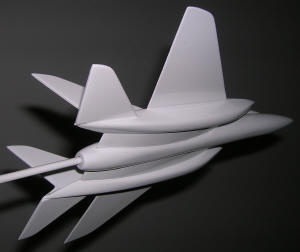 Interceptor concept model painted overall white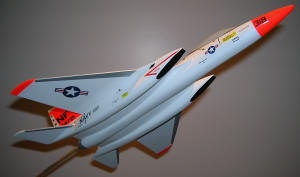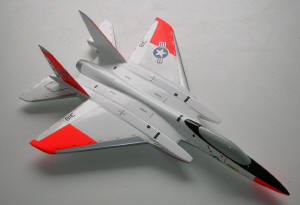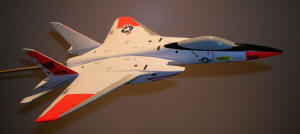 Interceptor concept model painted in US NAVY trainer scheme
Don't be deceived by the elegant yet aggressive looks, the Interceptor is an incredibly docile trainer. You will notice some design influence from military jets like the F-14 Tomcat, the RA-5C Vigilante and last but not least, the F-15 Eagle. This is no coincidence! Our F-15 kit has been our best selling kit to date. Hundreds of RC pilots have placed their first steps into jet modelling with the F-15, exactly because of its excellent trainer like flight characteristics. The F-15 is virtually stall proof and very forgiving, both qualities which are ideal for a jet trainer. We wanted at least these qualities in our jet trainer, but without the numerous inherent disadvantages of the F-15 like the necessity of a bifurcated tailpipe, the high drag, the narrow wheel stance etc...
So essentially, it is an F-15 kind of trainer, in a modernised style and purpose designed for ease of flying, ease of operation, ease of maintaining and ease of building.
How would the Interceptor compare to the F-15? Well, it is better in the following areas:
Slightly increased wingspan: 1580 mm (versus 1450 mm)

Increased wing area, so lower wing loading

Single short tailpipe (versus long bifurcated), so no thrust loss

Less drag, so less power required (smaller air intakes, less frontal area)

Wider stance of the landing gear (no more wingtip scraping)

Single large fuel tank located at CG (so no CG shift in flight)

Better mass concentration around CG

Sleeker looks

Lighter

Quieter

More fuel efficient

Easier to build

Easier to fly

Easier to operate

Easier to maintain

Easier to transport

In general: less effort for a lot more fun!
The Interceptor is designed for the 90mm diameter class of turbines with thrust ranging from 60N to 100N.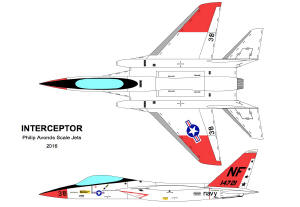 Interceptor design drawings with US NAVY colour scheme
Progress
We are presently working on the plugs. We will have two plugs for the fuselage parts (two sections for ease of transport), one for the main hatch, one for each air intake liner and one for vacuum forming the clear canopy. In the mean time, we are building the parts for the prototype. Below are some photographs showing the progress made.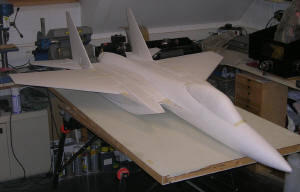 Interceptor foam fuselage plugs with prototype flying surfaces attached
Any comments and/or enquiries welcome!