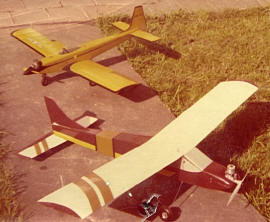 A 3/4

size

Kwik Fly in the background and my first own design trainer in the foreground (1974)

The kit of this Robbe Zlin was my 18th birthday present (1976)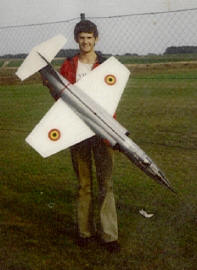 DF F-104 with Turbax I and K&B 7.5 cc power (1979)

F-104 with pusher prop and K&B 7.5 cc (1979)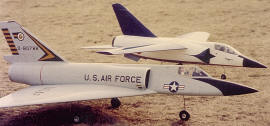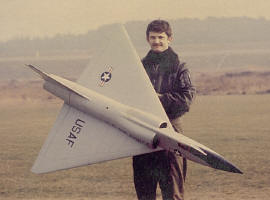 RC kits DF F-106

Delta Dart

. Horrible kit but good flyer. Turbax I and K&B 7.5 cc power (1980)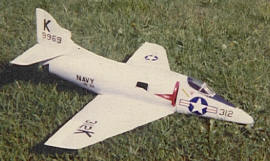 Midwest 1/2A DF A-4 Skyhawk with Axiflo 049 and Cox TeeDee 049 for power (1980)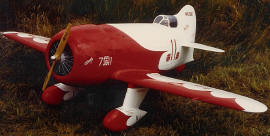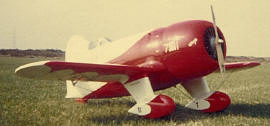 Gee-Bee R2 scale model from Henry Haffke plan (1982)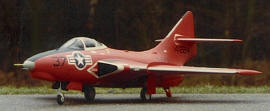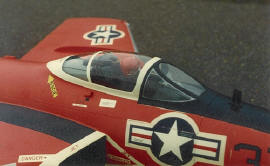 JHH DF F9F-8 Cougar with Turbax I and K&B 7.5 cc power (1983)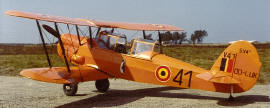 SV-4B from Svenson kit (1983)

Incidentally, the full size SV-4B OO-LUK is now owned by an ex BAF pilot from the same pilot training class as mine (Promotion 76B)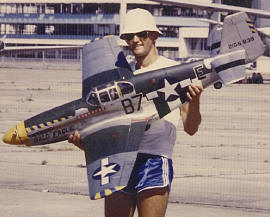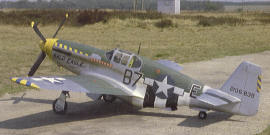 P-51B Mustang from David Vaughan plan. Won 8th place at the F4C World Championships in Le Bourget, France (1984)

. Sadly, it crashed following aileron flutter. It was an excellent and realistic flyer, one day I'll build another one...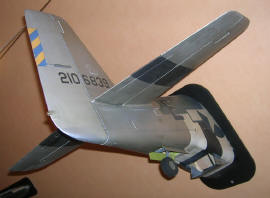 This is all that remains of my Mustang... now suspended in my "attic museum".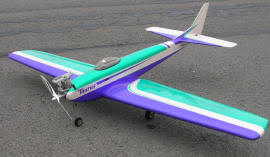 Top Flite

Taurus

built from the original kit in 1997. A

classic design from 1962 in the original scheme but with modern colours and up to date radio and engine. Isn't she beautiful?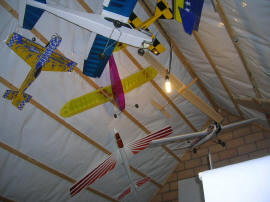 Some models suspended in my attic: Protech Edge 540 shockflyer, Scorpio Miss Europa; Robbe Charter, MK Mini Mach, Great Planes Easy Sport 40, Aeronaut Skippy, Robbe Geier and Ukranian C/L combat model.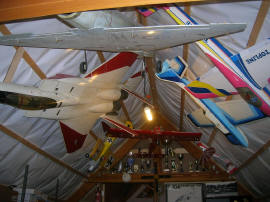 More models suspended in my attic: R/C Kits F-106 Delta Dart, EZ Topline 50, MK Arrow 40, Robbe LO-100, Thunder Tiger Stick, Graupner Eindecker and my old red & white F-15 trainer.
My motorbikes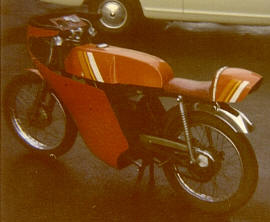 Customised Honda SS-50 motorbike (1975)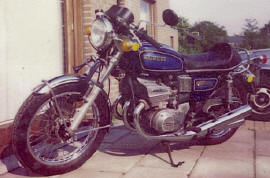 Customised Suzuki GT-550 motorbike (1979)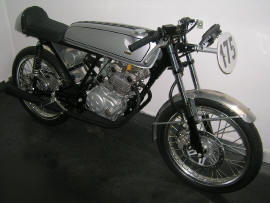 I aquired this retro racer, a Honda Dream 50R in 2008. This example is serial number 175 and was built by HRC, the racing division of Honda, towards the end of 2003. This beautiful piece of engineering and collector's item adorns my office and no, it is not for sale...
My cars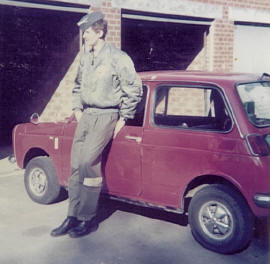 My first car was a Honda N600 purchased for Ä 125,00...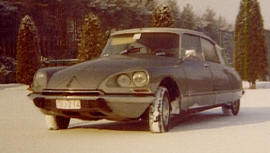 A year later I inherited this classic CitroŽn DS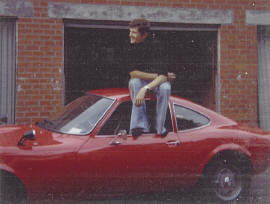 The day I got the opportunity to buy my dreamcar, the Opel GT, I didn't hesitate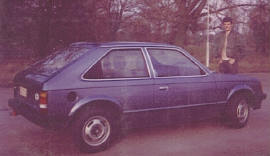 Family expansion forced me to buy this Opel Kadett 1.3, my first newly bought car
Later I would own in succession: a red Opel Kadett Break 1.6 Diesel, a gray CitroŽn XM 3 litre V6

,

a blue Opel Astra Break 1.6 Diesel

and a gray Renault Grand Espace III 2.0 16V.

My current car is a Renault Grand Espace IV 2.0 dCi 150 FAP.