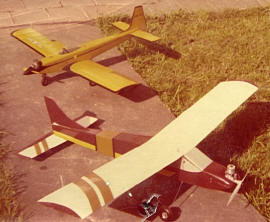 A 3/4

size

Kwik Fly in the background and my first own design trainer in the foreground (1974)

The kit of this Robbe Zlin was my 18th birthday present (1976)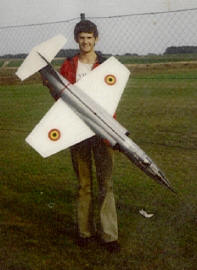 DF F-104 with Turbax I and K&B 7.5 cc power (1979)

F-104 with pusher prop and K&B 7.5 cc (1979)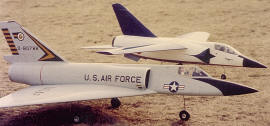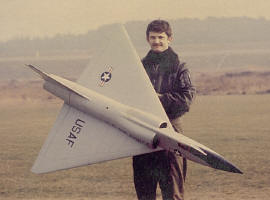 RC kits DF F-106

Delta Dart

. Horrible kit but good flyer. Turbax I and K&B 7.5 cc power (1980)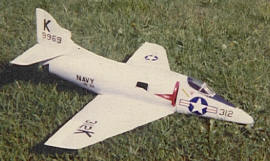 Midwest 1/2A DF A-4 Skyhawk with Axiflo 049 and Cox TeeDee 049 for power (1980)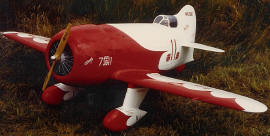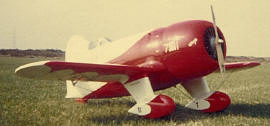 Gee-Bee R2 scale model from Henry Haffke plan (1982)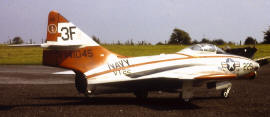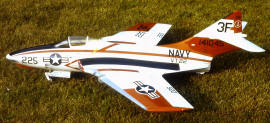 JHH DF F9F-8 Cougar with Turbax I and K&B 7.5 cc power (1982)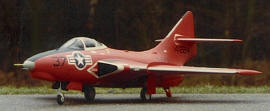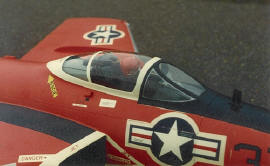 JHH DF F9F-8 Cougar with Turbax I and K&B 7.5 cc power (1983)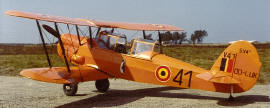 SV-4B from Svenson kit (1983)

Incidentally, the full size SV-4B OO-LUK is now owned by an ex BAF pilot from the same pilot training class as mine (Promotion 76B)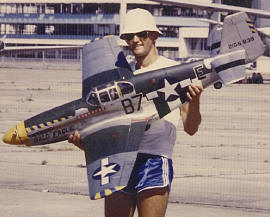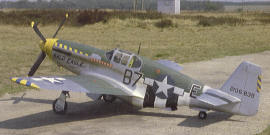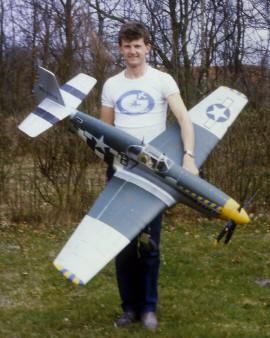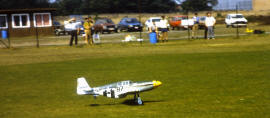 P-51B Mustang from David Vaughan plan. Won 8th place at the F4C World Championships in Le Bourget, France (1984). Sadly, it crashed following aileron flutter. It was an excellent and realistic flyer...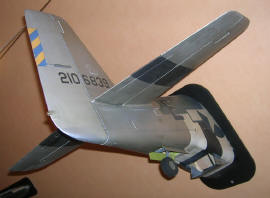 This is all that remains of my Mustang... now suspended in my "attic museum".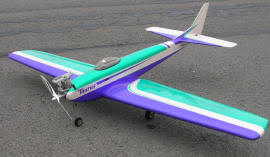 Top Flite

Taurus

built from the original kit in 1997. A

classic design from 1962 in the original scheme but with modern colours and up to date radio and engine. Isn't she beautiful?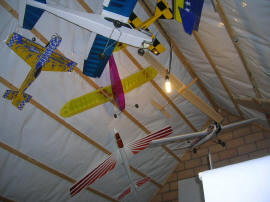 Some models suspended in my attic: Protech Edge 540 shockflyer, Scorpio Miss Europa; Robbe Charter, MK Mini Mach, Great Planes Easy Sport 40, Aeronaut Skippy, Robbe Geier and Ukranian C/L combat model.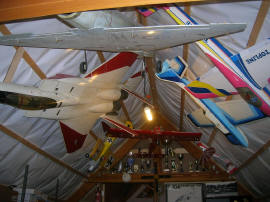 More models suspended in my attic: R/C Kits F-106 Delta Dart, EZ Topline 50, MK Arrow 40, Robbe LO-100, Thunder Tiger Stick, Graupner Eindecker and my old red & white F-15 trainer.
My motorbikes
A good school friend of mine infected me with the love for engines and motorbikes. At the same time, my elder brother became a motorbike afficionado, so it was not a big surprise that it resulted in me working on his bikes and riding them from time to time (on private roads, I was only 14 at the time...).
My brother's first motorbike was a Saroléa Régina, a popular 200 cc two stroker. He paid 3500 Belgian Francs for it (less than 100 euro). The bike was not very reliable, but maybe that was just because we were still learning how to properly maintain them. One day, the front tire ran flat. As my brother didn't like working on the bike, I was assigned for the repair job. Unfortunately, on reassembly, I mistakenly swapped the spacers on the front axle resulting in the anti rotation boss becoming dislodged upon the first brake application on my brother's test drive. As his braking action was right in front of me, I could see how the handlebar bent down as the front brake cable entangled around the dislodged brake drum. It was an embarrassing learning moment for me as a novice motorbike mechanic...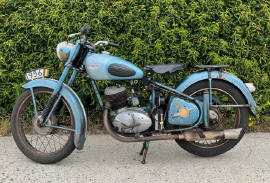 This is a similar Saroléa Regina as the one we had
The second motorbike was BSA Bantam, a 125 cc two stroker, bought from a second hand motorbike merchant in Bruges after a short test drive in the snow... Price was 3000 Belgian Francs (approx. 75 euro). My brother rode the bike for a short while on the streets before we decided to use it as a base for a low cost chopper. The project stalled however and that was a shame because in the process, we had ruined a classic bike...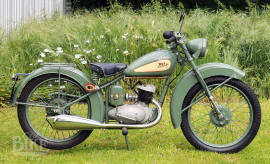 This is a similar BSA Bantam as the one we had
On my 16th birthday (1974), I rode my first 50cc bike on the road, a two year old Yamaha FS1 Street two stroke with five speeds, bought second (or third) hand for 6000 Belgian Francs (approx. 150 euro). Although it was substantially faster than the 40kmh speed limit for that class of bikes at that time, I took care not to exceed that limit.
At that time, it was very popular to modify bikes and I did just the same. My Yamaha FS1 was first repainted in the black and gold John Player Special livery similar to the Lotus Formula 1 racing cars. Later, I had some parts chromed like fuel tank, side panel covers, head light and head light supports, front and rear springs etc. I painted the frame in red and that gave a splendid contrast with the chrome. Too bad I don't have any pictures.
A bit later, I decided to design and make a full fairing for the bike. I had no experience with fibreglass work, but the friendly people at Artois Plastics tought me how to do it. My Yamaha FS1 started to look more and more like a racing bike.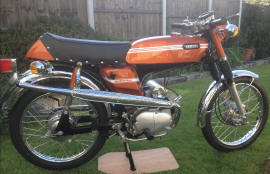 this is approximately how my 1972 Yamaha FS1 looked like originally (photo is not of my bike)
I don't remember why exactly, but I sold the Yamaha and acquired a Honda SS50 four stroke. It was an early black version with chrome and rubber side covers on the fuel tank and a low exhaust.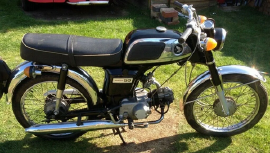 this is approximately how the 1970 Honda SS50 looked like originally (photo is not of my bike)...
The bike was later completely restyled as seen below. The long fuel tank was in fact a fibreglass dummy that covered the original fuel tank. I upholstered the fibreglass seat myself. That way, I got introduced at working with a sewing machine. The full fairing was a complete new design, made to fit my posture. The bike was a pleasure to ride.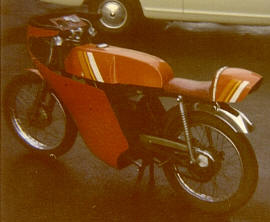 ...and this is how my Honda SS50 looked like after the restyling modifications
My brother's first serious motorbike was a beautiful green and white Suzuki T500 like the one on the photo below. He travelled to the Grand Prix motorcycle races in Francorchamps in 1974 and 1975 with me as a passenger. I still have fond memories of watching those races with great names like Angel Nieto, Phil Read, Giacomo Agostini and Barry Sheene...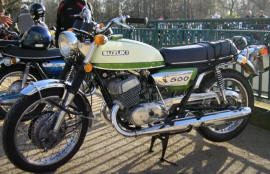 my brother's first serious motorbike was a Suzuki T500 like the one on this photo
His second bike was a Suzuki GT550, a bike I liked a lot. It was equipped with a powerful three cylinder two stroke engine with four chromed exhaust pipes. When I got the occasion to buy one second hand back in 1978, I jumped on it. It was a black version equipped with a Rickmann full fairing, twin horns, low steering bar and a beautiful Giuliari cafe racer style seat. I removed the fairing as it didn't match the bike very well and I repainted the fuel tank and side covers in a stylish colour scheme of metallic blue and black with white pinstriping. I still think my Suzuki GT550 ranks amongst the most beautiful ever.
I loved to ride that motorbike but when I had a near miss with a reckless car driver, I decided to sell the bike as I was afraid of jeopardizing my career as a fighter pilot. I'd love to find that particular bike again today, I would buy it back without hesitation.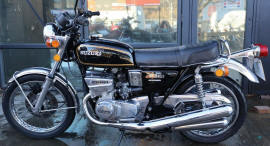 My Suzuki GT550 motorbike looked pretty much as this one when I bought it.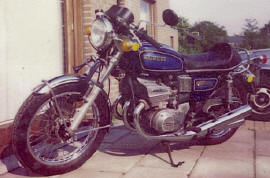 My own c
ustomised Suzuki GT550 motorbike (1979)
I didn't ride motorbikes until 1989 when I bought a second hand Honda MB50 two stroke motorbike from a fellow Sea King pilot. As it was only 50cc, it was not the most exciting bike. This time, I kept the bike 100% original. I sold it in 1993.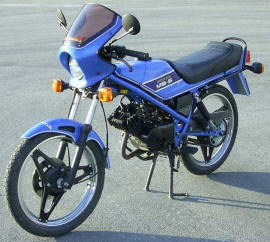 this is approximately how the Honda MB50 looked like (photo is not of my bike)
After my retirement as an air force pilot I felt the urge to ride motorbikes again. Nostalgia hit and it would be a classic bike. My mind was kind of set on a Honda four cylinder or similar. But this was met with a veto at home and a compromise was made in the form of a Honda Dream 50R on static display in my office.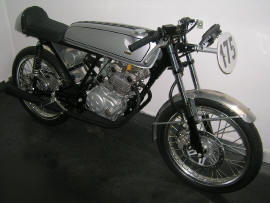 I aquired this retro racer, a Honda Dream 50R in 2008. This example is serial number 175 and was built by HRC, the racing division of Honda, towards the end of 2003. This beautiful piece of engineering and collector's item adorns my office and no, it is not for sale...
During our 2023 holidays on the beautiful island of Tenerife, I decided to rent a motorbike. I chose a Honda CB500X as it is a good entry level bike with its limited power (A2 licence) considering my 30 years gap in experience. It took me a few minutes to get accustomed to bike riding again, but it went surprisingly well (don't they say that you never loose the feeling?). I was particularly impressed by the handling and the braking power of this modern bike.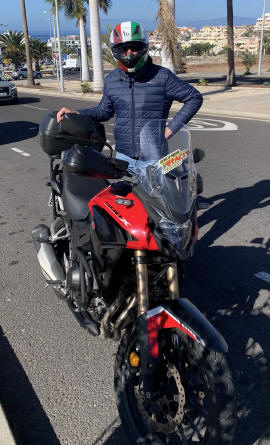 rented Honda CB500X in Tenerife
Prior to the rental bike experience, I would have loved to own a classic bike from the seventies, but now I would rather go for a modern retro bike. I had the opportunity to do a test ride on a Kawasaki Z650RS and that's without hesitation the bike I would buy today if I was allowed to...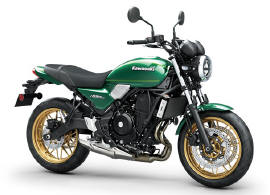 Kawasaki Z650RS, my choice of a modern retro bike today
My cars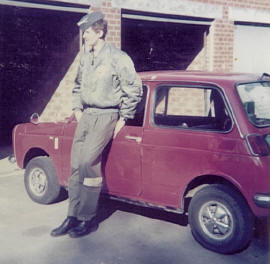 My first car was a Honda N600 purchased for € 125,00...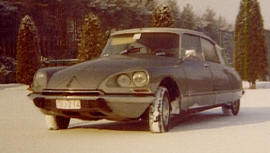 A year later I inherited this classic Citroën DS

when my dad died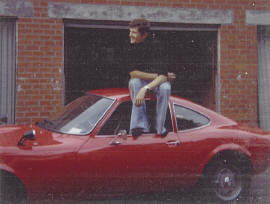 The day I got the opportunity to buy my dreamcar, the Opel GT, I didn't hesitate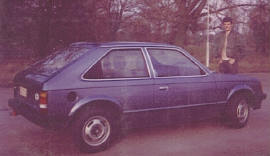 Family expansion forced me to buy this Opel Kadett

D

1.3, my first newly bought car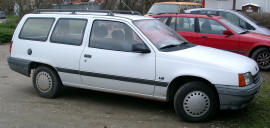 This

Opel Kadett

E

Break 1.6 Diesel

is similar to the one I had, i.e. a three doors (mine was dark red however)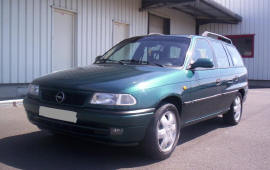 This

Opel

Astra

Break 1.

7

Diesel

is similar to the one I had

This Citroën XM V6 is similar to the one I had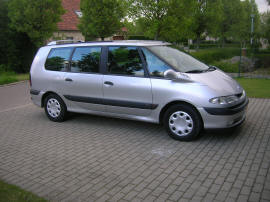 This was Renault Grand Espace III 2.0 16V bought in 1999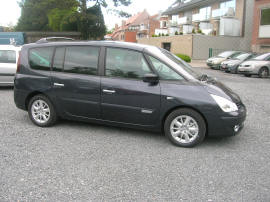 This is my current Renault Grand Espace IV 2.0 dCi 150 FAP bought in 2010