We are now offering a custom building service. We realize that many people don't have the time, the skills or the necessary infrastructure to build and finish our kits. We are in contact with a world renown model builder, Wim Reynders who has retired from his full time job since early 2015. He is a top notch builder, having won first places at countless national scale competitions, and first place at the FAI Standoff Scale World Championships in Reno, USA in 1982 with a twin engined DH Mosquito. His most recent success was his runner up place at the IJMC Jet World Masters in Meiringen, Switzerland in 2013 with his beautiful Fouga Magister built from our kit (13,5 kg class).
Wim is able to build our jet kits to the requirements of the owner. All stages of building and/or finishing are within his possibilities. Although he concentrates primarily on custom building our own line of jet kits, any project can be handled. Please contact us if you would like to make use of this service in the near (or even far) future.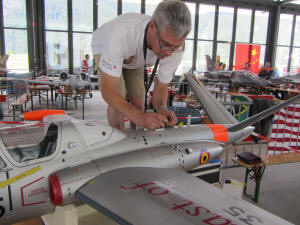 Wim Reynders adding details to his Fouga Magister model at the 2013 JWM
Wim is a dedicated and highly skilled model designer and builder. He built numerous competition winning models from Brian Taylor plans, but he is also the designer of our F-104G model and a few other remarkable scale models: Hawker Tempest, Grumman Tigercat and P-40 Warhawk. A few of his wonderful creations below.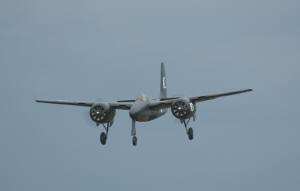 Grumman Tigercat designed and built by Wim Reynders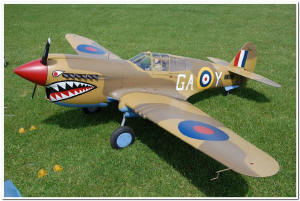 P-40 Warhawk built by Eric Smeets from Wim's plans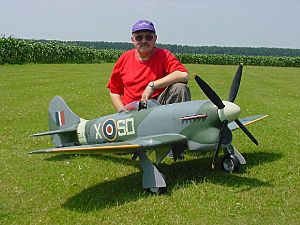 Noel Balthazar posing behind Wim's Hawker Tempest