Flying fast jets: my little boys' dream!
After pilot training, I was very happy to be assigned to Kleine Brogel to start my operational pilot career on the Lockheed F-104G Starfighter.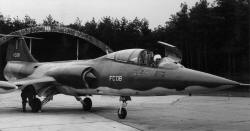 Back to the parking place after my first solo on TF-104G (tail number FC-08)...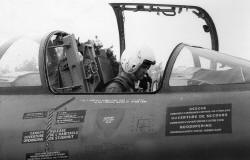 ...doing the shutdown checks...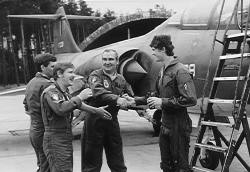 ...and receiving congratulations from the F-104 instructor pilots, from left to right: Swa Aerts, Marc Van Huysse and Tony Muls
May 22nd, 1979
Note that the first solo was performed in a TF-104G with empty back sea

t. The reason was that there was a slight difference in "feel" between singleseater and twoseater (due to the CG being more forward on the singleseater). My first singleseater flight was performed the next day.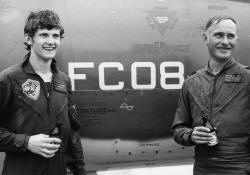 After the traditional "shower" from the fire truck, posing in front of the aircraft and drinking a well deserved beer together with my chase pilot Armand Van Reydt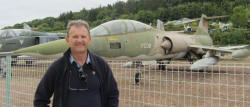 Some 40 years later, I find my first solo aircraft on display at the open air museum of Savigny (France)...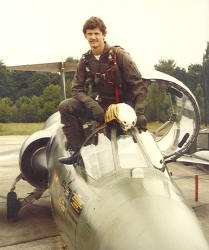 First operational tour: 31 "Tiger" Squadron in Kleine Brogel
Lockheed F-104G Starfighter
1979-1983
645 flying hours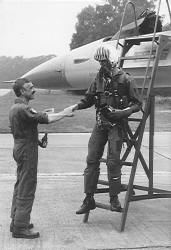 CO Alex Peelaers congratulates me after my first solo on F-16A

(tail number FA-61)

July 8th, 1983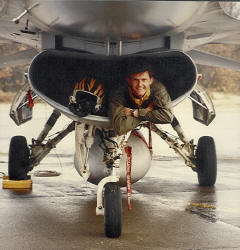 Second operational tour: 31 "Tiger" Squadron in Kleine Brogel
General Dynamics F-16A
1983-1984
160 flying hours
---
Helicopters: a whole new ballgame
Unfortunately, medical reasons brought my fighter pilot career to a halt. I had to choose between transport or helicopter. The latter became my choice for the simple reason that the location would give me better aeromodelling opportunities...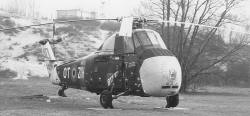 Initial helicopter training on Sikorsky HSS-1
From the most modern jet in the inventory to the oldest aircraft...
40 Squadron Search and Rescue (SAR)
1984-1985
75 flying hours

/ first "solo" flight: November 14th, 1984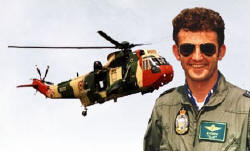 Westland Sea King SAR helicopter
1985-2003
3200 flying hours

/ first "solo" flight: March 18th, 1985