Honda Dream 50R
I aquired this retro racer version of the Honda Dream back in 2008. This very example is serial number 175 and was built by HRC, the racing division of Honda, towards the end of 2003. This beautiful piece of engineering and collector's item adorns my office and no, it is not for sale...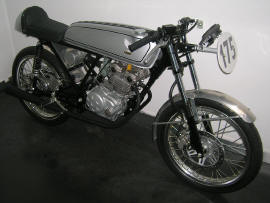 This is the original configuration of the bike with a number plate on the front
I admire the beauty of the bike each time I enter my office. However, there was always a little thing that bothered me and that was the look of the front of the bike with the elliptical number plate. I had always contemplated to design and manufacture a full fairing for the bike, like I had done before in the mid seventies for my Honda SS50, but the project simply never materialized. That was partly because I hated the idea of covering the beautiful engine. Then came the day when I saw a picture of a Magni Italia 01/01 bike and I immediately knew what to do: install a suitable half fairing (instead of a full fairing) leaving the beautiful engine nicely exposed. To me, the Magni Italia 01/01 is the most beautiful street/race bike ever produced. It is hand made, using the 3 cylinder 800 cc engine from MV Agusta. Art on wheels!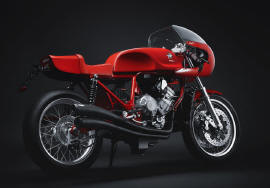 no, this is not a Honda Dream 50 but the awesome Magni Italia 01/01 that inspired me
The fairing for my Honda was purchased from Kickstarter in Germany, painted in a similar silver colour, and carefully installed so the bike could be brought back to original within minutes. I'm now very happy with the esthetics.
The specifications on the Honda Dream 50R are quite spectacular and unique. It is very lightweight at only 71 kg. The 49cc four stroke engine is built by HRC and equipped with 4 valves driven by twin overhead camshafts. Each exhaust valve has its own exhaust pipe. Maximum power is a hefty 7hp (5.14kw) at 13.500rpm. The power is transmitted through a six-speed close-ratio gearbox.
My example has never been fired up or driven. It is in brand new condition and carefully maintained as such.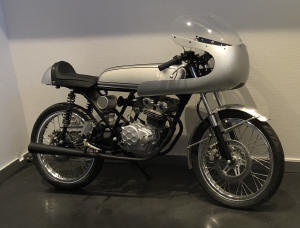 Current configuration with half fairing installed (in 2022)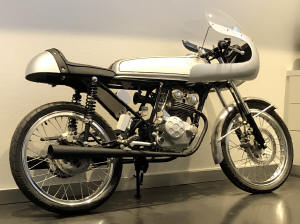 The half fairing leaves the beautiful engine nicely exposed
I have built a few plastic scale models of other Honda Dream versions. These are all 1/12 scale kits from Aoshima. A photograph of each one is presented below, but they can also be admired in all their details on the website of scalemates (which also shows my complete plastic model collection, including 150+ built aircraft models).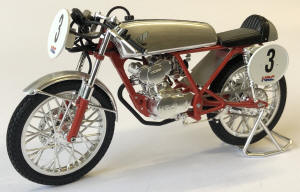 Honda Dream 50 Performance Machine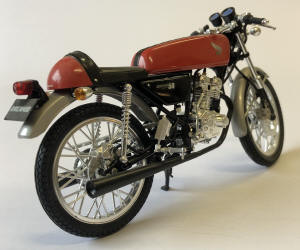 Honda Dream 50 Special edition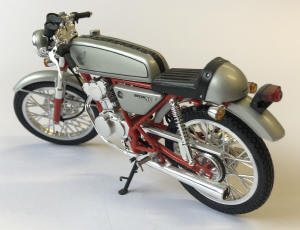 Honda Dream 50 (standard street)