This page is intended for people who are interested in old proportional transmitters. I hope it is an inspiration source on how to bring them to life again, either completely original or with modern components. I got into this very recently, thanks to the time freed up by stopping the production of the jet model kits. I guess this nostalgic trip is due to the fact that those transmitters costed a fortune half a century ago and my spending hours as a kid drooling over catalogs, wishing I had the money to buy the equipment...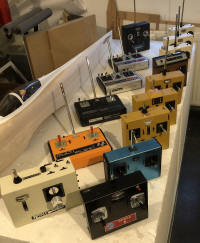 line up of old transmitters
So I own a series of transmitters which had been lying around in my attic for years until a short while ago, I decided I would clean and update them. First thing was to remove the batteries. All had leaked. I really should have removed them a lot sooner... Luckily, only one transmitter got badly damaged by the acids creeping between the aluminium casing and its brown vinyl cladding. It was a Heathkit donated by my uncle Jacques, the man who got me into aeromodelling and inspired me to become a Belgian Air Force pilot. Thanks Jacques! The damage is not visible on the photograph below. I restored the transmitter cosmetically only and substituted newly printed labels.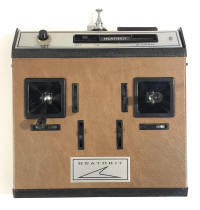 Heathkit transmitter from uncle Jacques
Actually, I still have all my original transmitters. The first one was a MagGregor Digimac IV (upgraded to 6 ch), bought in a shop in Bruges back in 1973 or 1974. I paid 400 euro at that time, which would equate to around 2000 euro today... It was put to a lot of use and abuse, so it is pretty much in poor condition, but I intend to put the transmitter in working order again. Probably not to fly as the gimbals are really worn.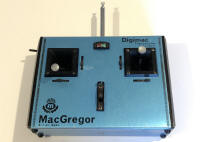 MacGregor Digimav IV on 27 MHz
This was followed by two Tower Hobbies transmitters which were actually built by Kraft but were priced much cheaper (200 US Dollars). One of these has been upgraded, see further on.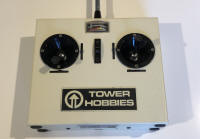 Tower Hobbies on 72 MHz
Two Multiplex Royal transmitters with servo reversing, dual rates and mixer functions came next. These features were necessary to allow me to fly the F-15C twin ducted fan model which would eventually grant me my first F4C Scale World Championship title. I intend to make at least one operational again with a 2.4 GHz upgrade.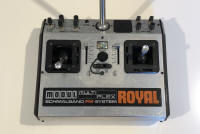 Multiplex Royal on 40 MHz
My first computer radio was a Futaba FP-T9VAP, followed by a Futaba 9ZAP, both on 35 MHz and my current Futaba T12FG, my first 2.4 GHz radio.
my Futaba computer radios
I acquired some other vintage transmitters in the course of the years bringing my total number to around 25. I plan to put them in working order again. Some will be upgraded with a 2.4 GHz RF module, a modern encoder and LiPo batteries, some others will remain fully original. Still others will get a restyling if I don't like the looks of the original... Some photographs below.