Introduction
Throughout the years, the brand Philip Avonds Scale Jets earned an excellent reputation in the niche world of R/C Jets. I started my business as a side job in February 1987 following competition successes with my first F-15 twin ducted fan jet. Now after 3
4
years, I have taken the decision to offer the brand and the tooling for my range of models for sale. In those
34
years, I have produced and sold over 1200 jet kits to very satisfied customers all over the world.

My models have been very successful sellers and I had to keep publicity down so I could manage the business all on my own, even though
for an extended period of
time, I had subcontractors who did the most labour intensive work. Sales did however start to drop in the beginning of the century due to the advent of (mostly) Asian produced RTF jets which affected all manufacturers of jet kits, forcing the majority of them to
stop producing builder's kits altogether.
T
he resulting shortage of this kind of kits has recently led to a revival of demand for my models.

There are still quite a
number of
modelers out there who enjoy building and finishing a model themselves. Creating one's own model jet adds tremendously to the satisfaction of the hobby. Those modelers are the ideal customers for my easy to build range of kits like the old F-15, Rafale, F-16 and F-104. The F-15 ARF on the other hand is a full composite model aimed at the modeler who prefers advanced prefabrication and scale accuracy
while
the Fouga Magister is aimed at the passionate scale builder who is willing to go the extra mile to create the ultimate scale jet. Legendary flying qualities are common to all of these models.

The new Interceptor model is on the back burner mainly due to current lack of time preparing kits for customers. I may pursue the development for my personal satisfaction and it's not excluded I would develop the model to the production ready stage and make it available for the person/company who
will have taken
over my business.
Who do I consider to be the ideal person or company to take over the production?
To answer that question, it is essential to understand that my business is like my "little child". All the work I have invested in designing the jets, creating the masters, test flying the prototypes and perfecting them for series production could not have come without dedication and passion. It is not an easy decision to let go of my "little child" Therefore, it's important for me to know that the person who will take over the business, will do that with a comparable level of dedication. In my opinion, the ideal person to take over the production is someone who already owns and flies one (or more) Avonds jet(s) and who is very passionate about its qualities and performance. Experience with epoxy glass work is recommended and some basic knowledge of CAD/CAM is definitely a plus (if you consider doing the metal and wood parts in house). A creative mind and a problem solving attitude are indispensable qualities. Of course, the selected candidate will have the full liberty of establishing the prices, adapting the designs to suit his production methods and/or to modernize them to current standards if required. Ideally, a candidate would pay a visit to my workshop to take a first hand look at what is involved, covid regulations permitting of course.
I would prefer a single person or a single company to take over the production of my whole range in his/her effort to continue to represent the Philip Avonds brand in the R/C jet community. It's also more practical since some models use common parts like shipping cartons, wing blades and adapters, wheels, and quite a bit of hardware, so splitting up the lot would complicate things. Also the idea of splitting up the brand to different persons or companies simply doesn't feel right. This being said, if the above is not feasible, I will indeed split up the lot and accept offers from highly motivated persons for the tooling of individual models. Be advised that shipping of the moulds would be near to impossible. Pick up with a suitably sized van is recommended.
What is included in the sale offer?
The amount of tooling depends on each model. Please consult each model's webpage to see what is included in the kits and the associated options. I have all the tooling to manufacture all those items in house except for commercially available hardware and rubber tyres. Be advised, specialty equipment like CNC machines are not included in the sale offer (read here).
An overview of the tooling for sale per model:
:
(includes moulds for gear doors
, centreline tank
and airbrake)
:
(includes moulds for gear doors)
:
(includes moulds for standard and scale gear doors
, silicone moulds for scale details etc.
)
(includes moulds for a variety of external stores and for full composite flying surfaces which were never put into production
, silicone moulds for scale details etc.
)
:
(includes
silicone moulds for scale details etc.
)
:
(includes moulds for scale gear doors
, silicone moulds for scale details
etc.
)
An overview of the tooling and data for sale per category:
* Fibreglass moulds for the kits and the optional parts (all are epoxy and suitable for post curing)
Note that the moulds of the old F-15 are quite worn but still very well usable. Those of the Rafale, F-104 and F-16 are in good condition and those of the F-15 ARF and Fouga Magister are in excellent condition.
* Moulds for vacuum forming canopies, cockpit decks and some scale details
* Silicone moulds for resin scale details (most of these are pretty worn and will need a recast)
* Fixtures and templates to cut foam flying surfaces
* PDF files for printing the plans
* PDF files for printing the manuals
* PDF files for printing the decals
* PLT and/or DXF files for CNC cutting of the wood parts
* DXF and/or G-code files for CNC milling and turning metal parts (also for the scale landing gear where appropriate)
* STX and PLT files for cutting paint masks and vinyl markings
* Manufacturing notes and tips
* List of current raw material and hardware suppliers
* List of customers who have expressed their interest in buying one or more kits from a potential continued production
* Website information and data
* Three consecutive days of "on the job" training (*), covid regulations permitting (but not including accommodation which is available at plenty of local hotels)
* Some remaining stock (*) of foam cut wings, vacformed clear canopies and scale details, wing blades and adapters, stab pivot mechanisms, retracts and spares, wheels, tyres, oleo struts and spares, ball bearings, shipping cartons, metal blanks to make landing gear components etc.
(*) both the training and the remaining stock are only included in the sale of the complete range of models.
In addition to the above, I would keep my website online for a period of time after handover date (to be agreed upon), removing my price list and referring to the new manufacturer.
Specialty equipment I use but which is not included in the sale offer!
The purpose of this list is to help a potential buyer in making an assessment of the feasibility of the project. Again, none of this is for sale, nor included in the sale offer.
Everything used to be done at my workshop with the exception of moulding rubber tyres and manufacturing stainless steel tailpipes (both outsourced).
* Team-Haase CUT 2000L CNC router with 1000 x 600 mm working area for cutting wood, polystyrene sheet and fibreglass board parts, currently available equivalent: https://team-haase-shop.de/cut-2500l.html
* Sherline model 2010 metric CNC mill for creating metal parts with CNC rotary table
* Sherline model 4410 metric CNC lathe for turning metal parts
Both the above Sherline tools are equipped with FlashCut CNC hard- and software. The currently available equivalent can be found here: https://www.sherline.com/product/8620/
* Vertical drill press
* Grinding tool
* Small press
* DeWalt metal miter saw
* Dremel rotary tool
* Dremel moto-shop scroll saw
* Glass cloth cutting table
* Post curing oven which is a large self made styrofoam box with an array of light bulbs to slowly up the temperature for post curing the epoxy glass parts (I use a slow setting aero grade epoxy giving plenty of working time. It requires an initial cure of 24 hours at room temperature and a post cure of 15 hours at 60°C for best properties)
* Cutting bow to cut styrofoam flying surfaces
* Adjustable 220V power supply for above (0 to 45V, 2,5 amp max)
* Self made metal heating oven and vacuum forming machine operated with a household vacuum cleaner
* Vacuum pump for vacuum bagging full composite flying surfaces of the F-15 ARF, current equivalent pump, see: https://shop1.r-g.de/en/art/390100
* HP Designjet 450C large format printer (36") to print the plans, current equivalent HP Designjet T630 36"
* HP LaserJet Pro 400 to print invoices (very important), manuals and decal sets
* Roland Stika STX-8 (12") craft cutting machine, current equivalent SV-12, see https://www.rolanddg.co.uk/products/vinyl-cutters/stika-desktop-cutter (this is only necessary for making paint masks and/or vinyl markings)
* Several desktop computers (some older models are dedicated to the CNC machines)
If all of the above needs to be purchased new, it would represent an additional investment of roughly 1
5.000,00 to18.000,00
euro excl. VAT (again, none of the above is included in the sale offer)
.
Some photographs: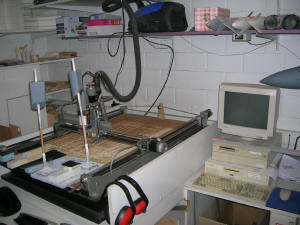 CNC router (here acting as a temporary storage table for Fouga intake moulds)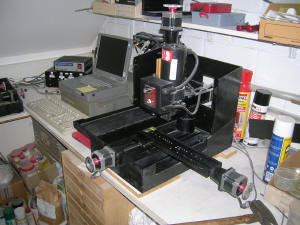 Sherline CNC mill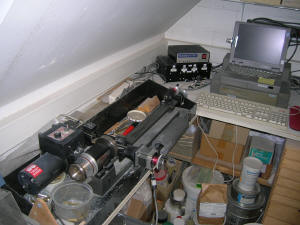 Sherline CNC lathe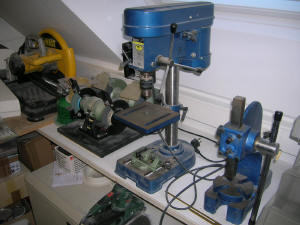 DeWalt miter saw, grinding tool, vertical drill press and small press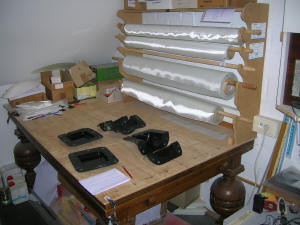 glass cloth cutting table (with some Fouga moulds)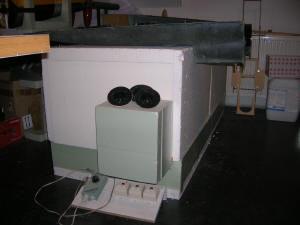 post curing oven (with some Fouga moulds)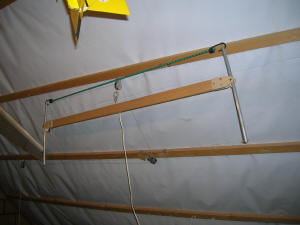 styrofoam cutting bow
Information about required workshop space
Here are some pictures of my own home workshop space to give you an idea of the space required. The different rooms are integrated in the house we're living in. I have a two room workshop (13 and 25 square meters) where all of the manufacturing is done and also serves as storage room with lots of shelves for foam wing sets, CNC cut wood parts, hardware and my own jets in flying condition. Storage room for the fibreglass moulds and shipping cartons is provided in two separate corners of the garage (approx. 5 square meters occupied).
This means that the whole business could be managed in a single workshop of less than 45 square meters. Although not required, I have a separate design room (12 square meters) with a large format printer and lots of inspiration in the form of finished plastic scale models in the display cabinet and lots of unbuilt kits, as well as an aviation dedicated bookshelf.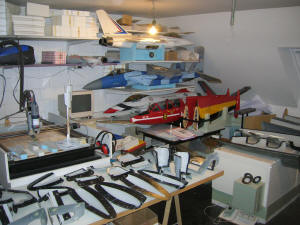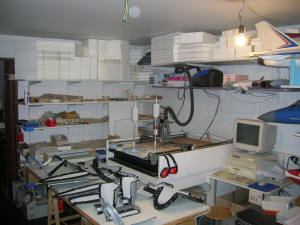 2 views of the workshop room 1 (Fouga kit epoxy glass work in progress)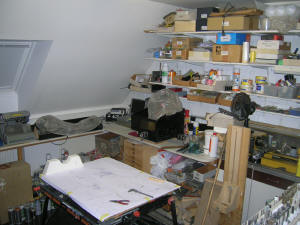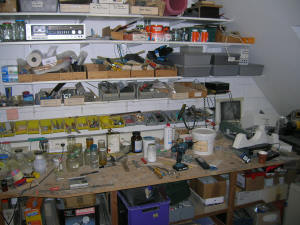 2 views of the workshop room 2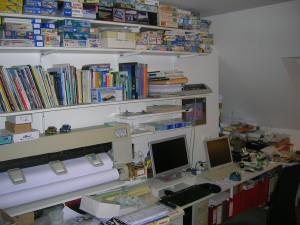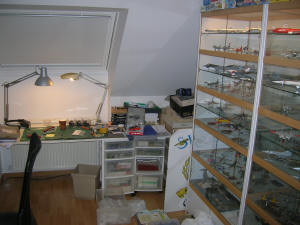 2 views of the design room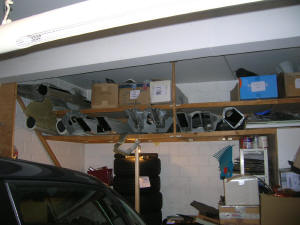 storage shelves in garage for fibreglass moulds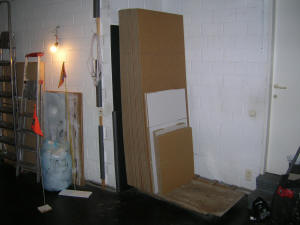 storage corner in garage for shipping cartons
Pricing
I'm not publishing any prices. For me, the most important thing is to see my work continued and the motivation of the candidate is the top priority when selecting. This being said, I do have reserve prices in mind which I will not disclose except in person to any serious candidate doing the effort to visit my workshop. Please bear in mind that I will not separate myself from my "little child" for ridiculous prices. So I invite you to submit a bid considering all the above and considering the reputation of the brand as well as the amount of time and money invested. Bids can be placed by simple e-mail to info@avonds.com providing country of destination and explaining your motivation and experience background.
At time of writing, I have over a dozen candidates to whom I will send the link to this page. I'd like to state explicitly that I reserve the right to refrain from selling the business at any time.
Timing
I'm not in a hurry and I don't want to rush anyone in taking important decisions. I do aim a handover towards the end of 2021, but that's far from a must.
Please contact me if you have any
further
questions
at info@avonds.com
Kind regards,
Philip Avonds
January 22nd, 2021