I've always had a weak spot for the Svenson Sundancer. I saw the model for the first time back in 1973 when André Deneve and another person were testing the prototypes at the Golden Wings club in Damme near Bruges. I was a teenager, doing a student job and saving for my first R/C model which ended up being a Westerly from the same brand. The Westerly was better suited as a first model, was cheaper and required one servo less (quite expensive in those days).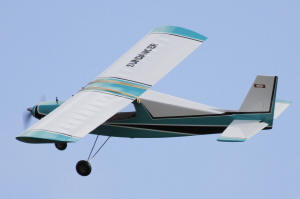 in flight shot by Michel Avonds
The model appeared in both the Svenson, Multiplex and Tenco catalogs in 1975. The prototypes were done in red/white/black and in blue/white/black schemes with styling typical of the seventies. I copied the latter scheme on my model.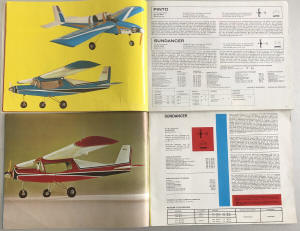 Svenson and Tenco catalogs

my Sundancer, 2021 version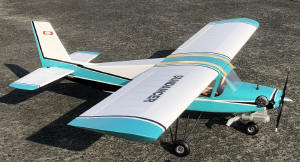 OS MAX 40 SF for power
Interesting to note that the Pinto, which was released a bit later (and proved to be more popular), actually made use of exactly the same wing, stab and fin. The nose- and tail moments were identical too. One could say that the Pinto was the shoulder wing version of the high wing Sundancer with a sleeker fuselage. See comparison image below.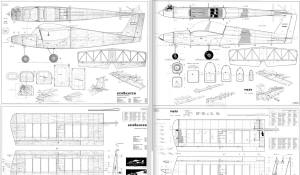 Sundancer-Pinto comparison
I built a Sundancer for a friend in the late eighties but I was somewhat disappointed by some of the flying qualities, mainly due to the absence of any down- or sidethrust. I was determined to change that with my next build which came over 30 years later. I retrieved a kit I had lying around for years in my attic, opened the box and quickly decided to build the model with my own redesigned CNC cut parts. The redesign was done on the computer (CAD) respecting the original outline and dimensions to the millimeter. The construction method is similar but with the added bonus of extensive prefabrication of parts (now over 200). The subtle changes I made were solely intended to improve the flying qualities and facilitate the building process.

Lovely seventies style colour scheme
The design was modified in following areas: introduction of 1 degree of downthrust and 2,5 degrees of sidethrust, and dihedral reduced from 6 degrees to 3 degrees. Furthermore, provision was made for one servo per aileron per modern standards. The first flight tests confirmed that those changes do make a difference. They make this model so much more enjoyable to fly!
I started the CAD drawings superimposed on the original kit plans and ten days later, I was ready to cut all the parts on my CNC router. The result can be seen on the following photographs. Very rewarding to make perfectly fitting kit parts for yourself that way! I do not offer this kit for sale, it was made purely for my own pleasure, but I can sometimes be persuaded to help out diehard Svenson fans...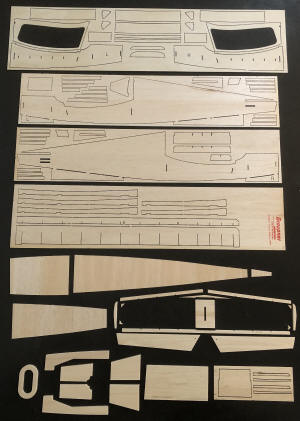 most of the fuselage parts and some stab parts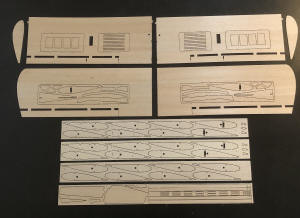 most of the wing and fin parts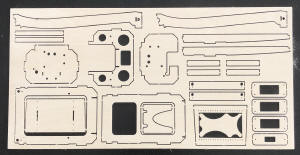 3 mm ply formers

1 mm clear side windows and 0.4 mm clear windshield (to allow bending)
Building the model took just a few days, thanks to the extensive prefabrication. Below are some photographs of the building process to give you an idea.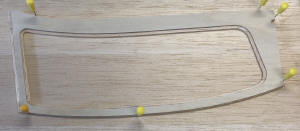 side window frames are designed so the clear parts are flush with the fuselage sides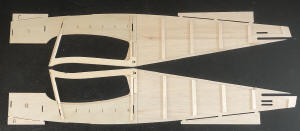 fuselage sides ready to be joined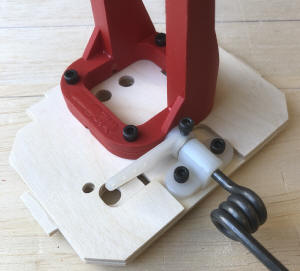 steerable nose gear and engine mount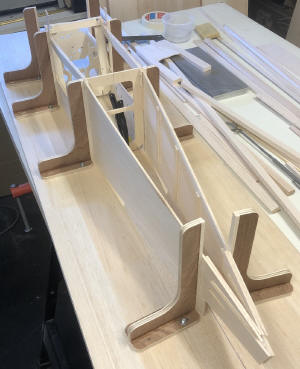 fuselage on a building jig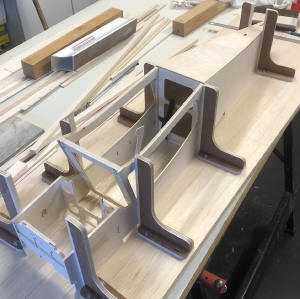 rear top decking added
upper nose blocks and front oval part aligned with a CNC cut jig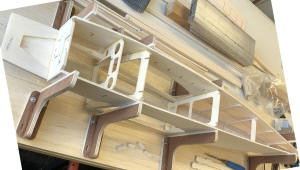 bottom of fuselage ready for main gear floor and bottom sheeting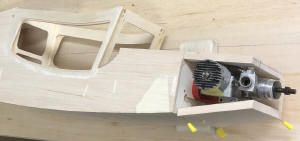 checking with engine installed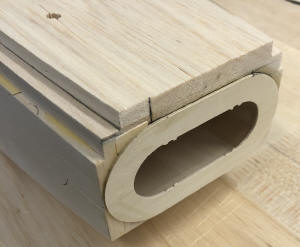 more nose blocks before...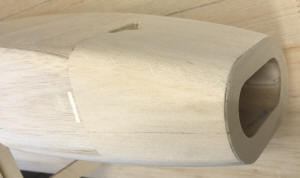 ..and after shaping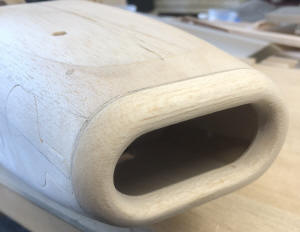 intake lip added and shaped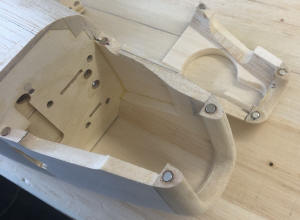 engine hatch separated (held with magnets)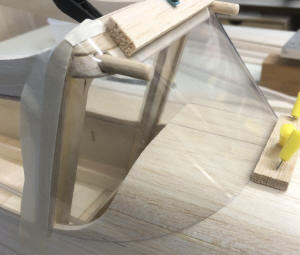 windshield temporarily installed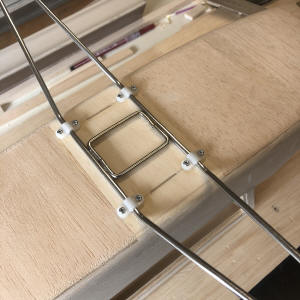 simple main landing gear installation

start of wing construction

lay out of the wing ribs and the positioning templates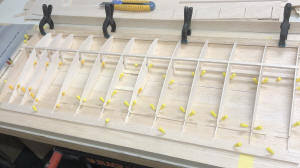 good progress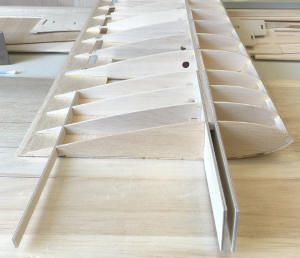 dihedral wing joiners installed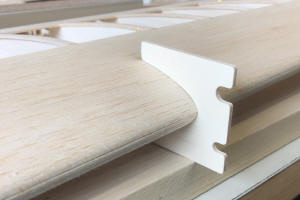 wing fully sheeted and leading edge shaped with the help of a CNC cut template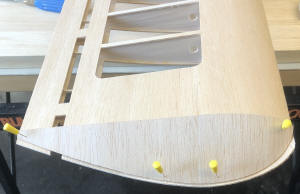 bottom of wingtip added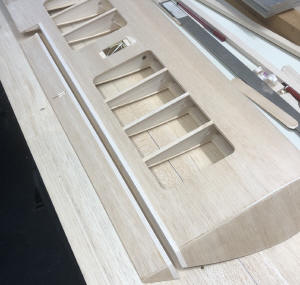 ailerons separated and balsa strips for hinging added

stab and elevators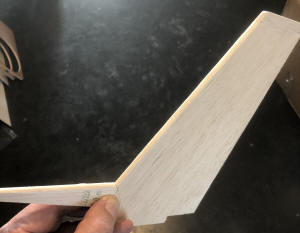 fin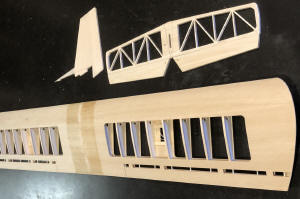 wings, stab and fin ready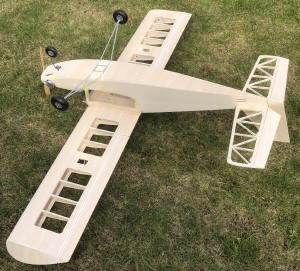 ready for finish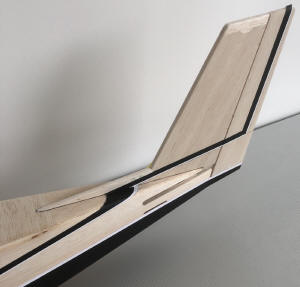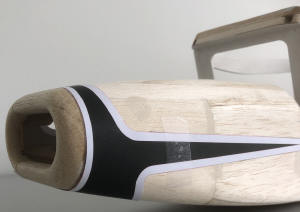 test fitting the trim with paper templates
model is covered with Oracover and Orastick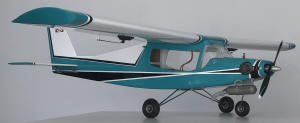 finished!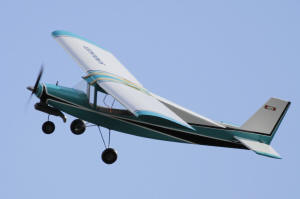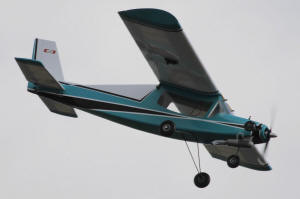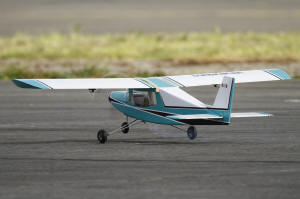 all in flight shots by Michel Avonds
The original designer, Léon Janssens, who founded the Svenson model kit company, was proud to hold my model at the Svenson Classics Fly-in, held on August 30th, 2021 in Eeklo, Belgium. He told me the Sundancer was his favourite design!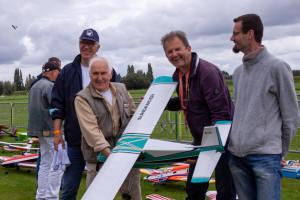 Léon Janssens proudly holds the Sundancer model