Radio Control Jet International magazine was published every two months by Traplet Publications Limited in the UK. If you wanted to know what was happening on the jet model scene, this magazine was for you! We have been advertising in RCJI from day one back in the Spring of 1993 till 2010.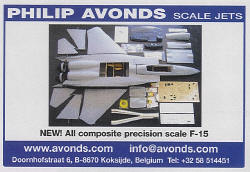 This was our last advert in RCJI magazine, issue Jun/Jul 2010.
We have a large stock of back issues. If you're looking for a particular back issue, please enquire. They sell for as low as 1 euro each, see below:

Radio Control Jet Magazine back issues (random pick but you can state preference for year of issue etc.)
€1,50 ea.
€5,00 for 4 ea.
€9,00 for 9 ea.
€20,00 for 24 ea.
Shipping costs: see table below